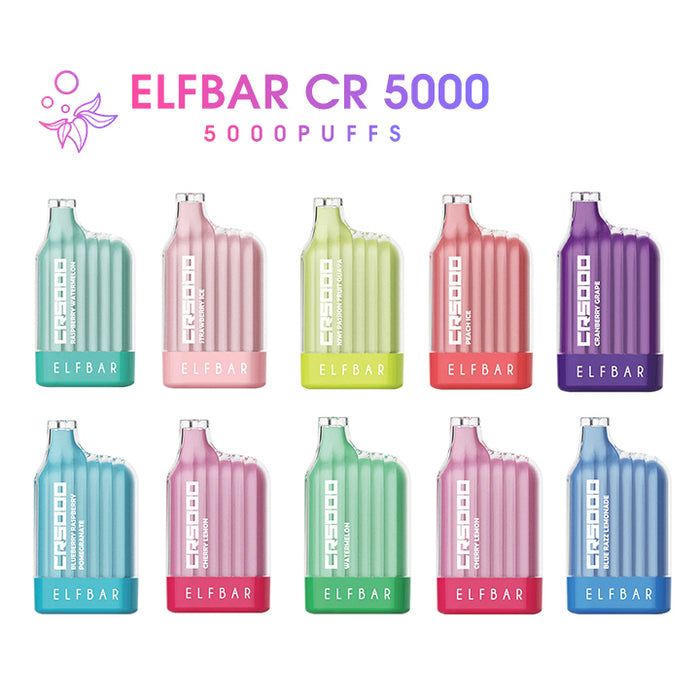 Elf Bar CR5000 5000 Puffs Vape Wholesale
Original price
$AUD 260.00
-
Original price
$AUD 55,000.00
$AUD 260.00
-
$AUD 55,000.00
Current price
$AUD 260.00
Shipping
Standard

Free Shipping All Orders

Courier company

Auspost

&nbsp&nbsp|&nbsp&nbsp

AirRoad

Delivery expected

84.6% are<=7days Pick up: For Sydney & Melbourne area pick up above 3000 pcs . New Zealand local shipping support please contact us .
Elf Bar CR5000 : The New Vaping Sensation
Discover the groundbreaking Elf Bar CR5000, the newest addition to Elfbar's renowned line of disposable vapes. As a leader in the disposable vape market both in the UK and the USA, Elfbar's reputation for quality is undisputed.
The CR5000 model stands out with its impressive specs:
Power: Tapped into a robust 650mAh built-in battery, it ensures extended vaping sessions.
Capacity: Pre-filled with 9.5ml of premium eLiquids, you're in for a long-lasting experience.
Endurance: Designed to give you approximately 5000 puffs, this device is made for vape enthusiasts who seek longevity.
Nicotine Strength: It comes loaded with 50mg Nicotine Salt, ensuring a satisfying hit every time.
Flavors:
Blue Razz Lemonade
Blueberry Raspberry Pomegranate
Cherry Lemon
Cranberry Grape
Kiwi Passion Fruit Guava
Peach Strawberry Watermelon
Strawberry lce
Peach Ice
Raspberry Watermelon
Watermelon